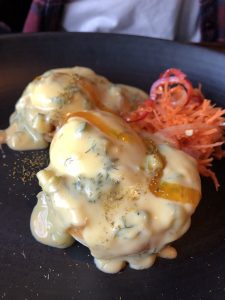 I don't know about you but I love a great breakfast.  Sometimes, I just have to find a place to unwind and have a great meal.  I like to review places that get great reviews and the places I am going to highlight all have over 1,000 reviews and get four to four and one half stars on Google reviews.
Snooze an A.M. Eatery is located in the Denver Ballpark neighborhood in Colorado (they also have locations in California, Arizona and Texas).  Founded by brothers Jon and Adam Schlegel, Snooze opened on April 1, 2006 to create an eating experience through culinary innovation, an eclectic and energetic atmosphere with comfortable and friendly service.
With the mantra "it only takes a moment to make a difference" they look at breakfast as the beginning of a new day.  They do creative twists on America's favorite breakfast classics.
Snooze offers a schwag so you too can order that t-shirt you forgot to get when you visited one of their fine restaurants.
Snooze an A.M Eatery believes they are doing the responsible thing for people and the planet.  Every month our employees learn about the different aspect of being Green.  They learn everything from composting and recycling up to 90% of their waste to focusing on resource conservation and using responsible materials.
Snooze an A.M Eatery has racked up over 1,000 reviews!  This gives them four and one-half stars.  That speaks volumes for this restaurant when there are so many to choose from.
Looking at some of your choices for breakfast will make your mouth water.  If you choose The Snooze Classic you will get three farm fresh cage-free eggs cooked any style and your choice of ham, bacon, sausage, chorizo, pulled pork, chicken sausage or soyrizo.  Breakfast included hash browns and choice of toast.  Or how about the Breakfast Pot Pie?  Using Snooze's homemade rosemary sausage gravy smothered on a flaky puff pastry, topped with an egg your style (they would recommend sunny side up!).  This is breakfast bliss complete with hash browns.
They are proud of The Art of Hollandaise.  Ham Benedict III is a classic evolved with their signature English muffin topped with shaved hickory smoked ham, perfectly poached cage free eggs and smoked cheddar hollandaise.  Yumm, they have Smashed Avocado Benny that is their signature English muffin topped with fresh smashed avocado and green chili, parmesan cheese, vine-ripened tomatoes, two poached cage free eggs, smoked cheddar hollandaise and everything spices.
Their Sammies sound incredible.  Havana Daydreaming features fre-range house pork, shaved ham, gruyere cheese, homemade pickles and sunny side egg with Dijon hollandaise served up open-face on a hoagie roll.  The B.E.A.T. sounds like a treat with tender belly bacon, fried cage free egg, organic arugula and sliced tomato service with bacon-tomato aioli on a toasted ciabatta roll (you can add avocado for $1.75 extra).
I could go on but I need to focus on two more places!  The second place I picked to review is Syrup Downtown which is literally in downtown Denver, CO (they do have two other locations in Denver, Cherry Creek and City Park).  They say they are The Sweetest Spot in Denver!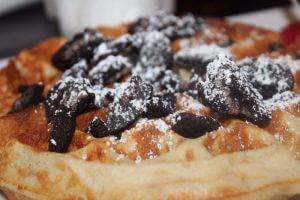 Owner and longtime barman, Tim Doherty, is a native to Milwaukee.  He has always wanted to open his own place but did not want to keep working late nights.  So, he chose a breakfast venue instead.  Recalling his Midwest roots, Tim created Syrup to serve waffles smothered in sautéed fruit and melted cheese on almost everything.
Tapping into his former cocktail servers and bartenders, Tim brought unique cocktails to Syrup for breakfast as well as award-winning corned beef hash, handcrafted syrups and signature green chili stew.  With a loyal following and over 1,000 reviews and a four-star rating, Syrup has a loyal following in Denver's breakfast scene.
Syrup Downtown offers breakfast, brunch and lunch seven days a week.  Hours vary so be sure to check before you stop in especially after 1:45pm as that is when they close for the rest of the day.
You can start your breakfast or brunch with Syrups and Appetizers.  Try their Beignets – lightly fried dough rolled in cinnamon sugar glaze and topped with powdered sugar.  Want more?  Have their Waffle Sliders, you get 2 waffle sliders with either scrambled egg, ham and cheese OR fried chicken with sweet n'spicy Thai chili sauce on the side.  Their handcrafted syrup choice is maple, vanilla, buttermilk, blackberry, strawberry, butterscotch, Kahlua, apricot and coconut.  They also have handcrafted butters:  traditional, peanut butter, pecan butter and honey cinnamon butter.  Choose your own cake, toasts or waffles and pour the syrup of your choice on each one.
For those of you who prefer a less sweet treat, try their Eggs Benedict.  The California uses avocado and grilled tomato slices, topped with 2 poached eggs and hollandaise sauce or the New Yorker with features smoked salmon, grilled tomato slices and spinach, topped with 2 poached eggs and hollandaise sauce.  You can choose an omelet or some of their other Breakfast Classics.
For lunch you may want to order The Southwest Burger with boasts half angus beef, half chorizo patty, roasted Anaheim chilies, crispy onion, fried egg and jalepeno cream cheese.  More in the mood for a sandwich?  Try the El Cubano which has slow roasted pulled pork, ham, spicy capicola, swiss, pickle and spicy aioli served on a hoagie – oh, you can add an egg for $2.00.
Prefer salads?  They please even the fussiest salad eater with their Ava's Grilled Chicken Salad.  Using grilled chicken, sweet corn, roasted red pepper and red onion served warm over romaine lettuce and served with cranberry.
Whatever is your pleasure, you are sure to find it as Syrup.
Lastly I picked Linger.  I liked the name because it make me think that I would not be rushed through the meal even if there is a wait.  With the outlawing of smoking in restaurants, it seems that restaurants are focusing on getting people in and out as quick as possible (used to be smokers took forever to leave!).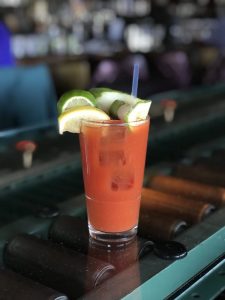 Linger has over 600 reviews with a four-star rating.  I find it funny that in Denver, many places have 1,000 plus reviews but in most cities, a restaurant is lucky to have 200 plus reviews.  They don't really serve breakfast but they do a brunch on the weekends.
Linger brunches are a local favorite.  Start your weekend with a Bottomless Mimosa either classic or Blood Orange.  Not a Mimosa drinker?  You can try their Bloody Mary or Ginger Collins or the signature Corpse River #2 ½ with gin, Canton Ginger Liqueur, Lillet Blanc, Lemon and Absinthe.
Now you better get some food in your belly!  Try their Chorizo tacos – scrambled eggs, potatoes, cotija cheese, avocado and onions.  If you are a Benedict person, you may want to dry the Adobo Pork Benedict – Poached Eggs, braised port, plantain mesh, sopes, chipotle hollandaise with refried lentils and black beans.
These restaurant reviews are courtesy of Fort Worth Hood Cleaning https://fortworthhoodcleaning.com/
Connie Fent, the author of this article, owned a hood cleaning company in Sacramento, California.  She is very knowledgeable in the hood cleaning industry.  
She performed an exit strategy with her hood cleaning company and now helps hood cleaning companies all over the United States become successful.  She can be reached through her website https://hoodcleaningmarketing.com.