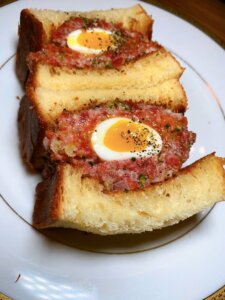 Located in the Lodo, Northwest area of Denver, Colorado is A5 Steakhouse.  It is one of many restaurants that is owned by The Culinary Creative Group.  They have opened several restaurants, coffee shops and bars in New Orleans, Louisiana, Aspen, Colorado and Denver, Colorado.  
Juan Padro is the Founder and CEO of The Culinary Creative Group.  Earning his Bachelor of Arts at the University of Massachusetts, Juan then went on to work in many high-end restaurants learning the trade from the bottom up.  Juan is a humanitarian who helped Puerto Rico after Hurricane Maria hit there in 2017 and feeding load off workers at this restaurant during the COVID-19 pandemic.  
Katie O'Shea is the Founder and CFO of The Culinary Creative Group.  she was burned and raised in Arlington, Virginia and earned a BS in Business Administration at the University of Vermont in 1998.  She spent seven years in the Financial industry before pursuing a career in education and mathematics.  After teaching mathematics in high school for four years, she moved to Denver with Juan and got into the restaurant business opening A5 Steakhouse.
Juan and Katie along with eleven other members of The Culinary Creative Group are committed to giving the best hospitality in their restaurants.  A5 Steakhouse has a four-point-six-star rating on the world wide web with over two hundred and fifty reviews.  
Buckhorn Exchange is located at 1000 Osage Street in Denver, Colorado.  It was established in 1893 by Henry H. "Shorty Scout" Zietz who was known as a very colorful person in the Old West.  Zietz met Buffalo Bill when he was ten and starting riding with him at the age of twelve in 1877.    He also hung with Chief Sitting Bull who gave him the nickname of Shorty Scout because he was small. 
The Buckhorn Exchange got its name as it was across from the Rio Grande Railroad yards which was next to the Buckhorn Lodge.  In those days, the railroaders stayed at the Buckhorn Lodge and every Friday night they would trade their paychecks for gold and got a free token from Zietz for a free lunch and a beer.  
Ziekz was an avid hunter and took great pride at showing off his mounts in his restaurant.  He hunted with then President Theodore Roosevelt who rode his train into town and went into the Buckhorn Exchange for dinner.  Other famous Presidents who dined there was Jimmy Carter, Dwight Eisenhower and Ronald Reagan.  There were Hollywood legends who dined there as well among them were Charleton Heston, Bob Hope and Jimmy Cagney.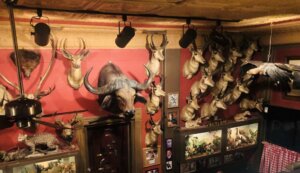 Zietz passed away in 1949 and his son, Henry Jr., took over the restaurant.  He added to his father's collection of animal mounts from his hunting expeditions.  When Henry Jr.'s health began to fail, the Zietz family was forced to see the restaurant in 1978 to a group of local investors.  They wanted to preserve the restaurant that Zietz created and kept the restaurant just the way it was sold.  There is over 500 game mounted on the walls which includes a jackalope and a two headed calf.  
It is a Denver favorite and a place that one will not forget quickly.  They have over thirty-two hundred positive posts giving them a four-point-five-star rating.  
For those who don't mind a little drive, Rincon Argentino is a popular steakhouse in Boulder, Colorado which is about thirty miles Northwest of Denver, Colorado.  Owners, Christian and Karley, opened their restaurant on October 13, 2012 after the birth of their second son.  
Christian was born and raised in Buenos Ares but after graduating from high school he was drawn to Boulder, Colorado.  There he studied to be a chef at the Gato Dumas Institute where he heard the art of asado.  Asado is the art of grilling pork, beef, chicken or chorizo on a grill called the parrilla which is an open fire.  
Christian met his wife in 2006 and they moved to Buenos Ares for several years.  There Christian perfected his cooking skills while Karly took in the sites, sounds and tastes of the area.  They moved back to Boulder after the birth of their first son with the dream of opening their own restaurant and calling it Rincon Argentino.  
Over the years they have become a favorite hand out for the people in Boulder.  Their empanadas are legendary as Christian only uses the finest ingredients he can buy locally.  They have a four-point-eight-star rating with close to two thousand evaluations on theinternet.
The reviews of these three great steakhouses is brought to you by ProCo Hood Cleaning.  They have been doing hood cleaning in Denver and the surrounding areas for years.  They are locally owned and operated and take pride in every job well done.