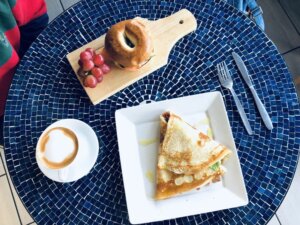 Cafe Miriam's is in City Park in the Northeast part of Denver, Colorado.  Owner, Touhami, had traveled the world extensively but craved spending more time with his children.  When they settled in Denver, Touhami went to work looking for a business that not only could he run but include his son Jamil and daughter Miriam.
In 2016 they found the perfect location and together they designed, built and promoted Cafe Miriam until it opened in June of 2017.  They originally focused on serving pastries, coffee, breakfast and brunches cooking authentic French Moroccan meals.  From the first day they opened, there have been lines out the door with patron coming from miles around.
As a neighborhood favorite, they have expanded their menu to include sandwiches, traditional Moroccan taglines and crepes.  When they are low on staff, Miriam and Touhami won't hesitate to step behind the counter to service their loyal customers.  On the internet, they have a strong four-point-eight-star rating with over five hundred reviews.
Located at 9636 E Arapahoe Road in Greenwood Village, Colorado is Sahara Restaurant.  Greenwood Village is about thirty miles from downtown Denver.  This restaurant has been family owned and operated since 1993 by Mohammed, Loubna and Chef Jihad.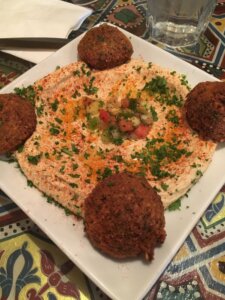 Chef Jihad made his home in Denver after fleeing Lebanon's Civil War.  Although both Mohammed and Loubna did not know each other, they both immigrated to Denver from Morocco in the 80's.  They met in Denver through friends and were married in 1991.  All three worked in the service industry and found their love for traditional Arab food their inspiration to open Sahara Restaurant.  
Their popularity has given them four and one-half stars on the world wide web with close to eight hundred reviews.  Their lunch menu includes house-made hummus as well as grape leaves.  They also offer vegan dishes for those who have a stricter diet.
Safta is located at 3330 Brighton Boulevard in suite 201 in Denver, Colorado where it opened in August of 2018.  Owner, Alon Shaya has years in the restaurant industry opening restaurants in New Orleans and Santa in Denver.  He has is wife founded the Pomegranate Hospitality group in 2017 with the goal of creating community in all of his restaurants.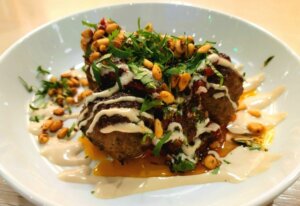 Before becoming Chef de Cuisine at Safta, Josh Gordon started his culinary journey in Boulder, Colorado in 1999.  He worked his way through college as a cook for local restaurants and realized he has a passion for food.  He attended the Culinary School of the Rockies where he fine-tuned his cooking skills.  He moved back to his hometown of Chicago where he worked in many fine restaurants before moving back to the West Coast.  He has a passion for finding recipes that are centuries old and adding his own twist.
Safta has been mentioned in many publications through the years including the Denver Post, People Magazine and Forbes.  With close to one thousand evaluations online they have a strong four-point-six-star rating.
ProCo Hood Cleaning has been doing hood cleaning in Denver and surrounding areas for years. Their technicians are professionally trained to meet the National Fire Protection Associations Code 96.   
Connie Fent, the author of this article, owned a hood cleaning company in Sacramento, California.  She is very knowledgeable in the hood cleaning industry.  
She performed an exit strategy with her hood cleaning company and now helps hood cleaning companies all over the United States become successful.  She can be reached through her website https://hoodcleaningmarketing.com.