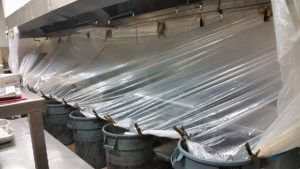 There are many questions we receive about cleaning home hoods. We are not able to clean residential hood systems as we are a commercial-level hood cleaning company. The pressure systems and methods we use in commercial hood cleaning are not suitable for residential cleaning. However, we can make some recommendations for cleaning your hood at residence.
How can a dirty filter ruin your mealtime? Learn three simple ways to clean the range hood filter with professional tips from an expert hood cleaner.
If your range hood filter, vent fan, or exhaust fan are not cleaned regularly, grease and grime can build up that can hinder the filter's functionality.
It is quite simple to clean these parts and does not require any complicated recipes. These solutions usually only need one to two ingredients and are easily found in most homes' kitchens.
A dirty range hood smells warm, slimy, and greasy. Some pathogens such as bacteria thrive in this environment. The small food particles and gases that travel with them and settle on the filters feed the growing bacteria.
It's Easy to Clean Your Hood Regularly
While it may not be the best way to use your time, you will want to make sure your range hood filters stay clean. Broan is a leading manufacturer that recommends cleaning filters at least every other month.
If you're like most homeowners it's quite a bit of work. Most people haven't cleaned their filters for at least a decade. Broan's experts on range hoods are right to tell you that I am a certified expert. Here are some reasons to ensure that your filters are clean:
A Few Simple Steps to Clean Your Range Hood Filter
Cleaning metallic grease filters is necessary. They are usually made of aluminum or, in rare cases, stainless steel. They could be either mesh or baffle filters.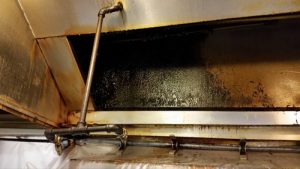 Although it may seem long, it depends on how dirty the range hood filters are, and what cleaning method you choose, the time taken could easily exceed an hour. However, the actual cleaning time will be less than fifteen minutes.
You will not find the most difficult attachment if it has both support and a fastener. The reason I call it difficult is because there are models that have the rotating flap placed in such an awkward way that it makes it difficult for you to insert your fingers. It may be necessary to use a knife or a screwdriver in order to rotate the flap.
Notice: I will start with the most efficient cleaning method and end up with the least effective. This is done to save your time.
To get the job done, you'll be using dishwasher detergent instead of dish soap or grease remover. To get the job done, you can use vinegar and baking powder.
If you have been following your cleaning schedule, and cleaning once per month, this is all you need.
But, if your filters have not been cleaned regularly, they may have accumulated grease or dirt. You can't just put them in the dishwasher if this is the case. Instead, you should follow one or more of the methods above.
As the filters have metallic elements, I do not recommend blow drying them. You could be subject to electric shocks. You should allow them to dry for at least a few hours. Before you put them back, ensure that they are dry.
Some grease filters are located around the grease filters, and the cooktop is likely to have oil and grease deposits. These areas can be easily cleaned using a mild grease remover.
Simply use a napkin to apply the degreaser, then wipe off with a clean cloth. Be sure to read the instructions before applying any degreaser.
Do not dilute the degreaser in a spray bottle. Spraying degreaser onto a large volume of water is counterproductive. To work, a concentrated degreaser should be diluted with hot tap water. Zep Industrial Purple is similar to what pros use.
If the sink is large enough for the filter to soak, an excellent dishwasher detergent will work. It is great for soaking as it helps to loosen the grease and remove it from hard-to scrub areas.
The Comment Section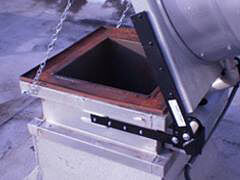 "In most cases, the dishwasher works great for cleaning these filter extractors. Make sure they are fully dried before re-fitting.
"My filter was awful. I first washed it with dish soap and then let it soak overnight. Next, I used dish soap to soak it overnight. It was clean, but still had some spots. Next, I used vinegar and baking soda. It was sparkling clear.
"Excess grease or oils that have accumulated on the hood filter could also be a problem for your dishwasher. If your range hood is cleaned at least once every six month, you can use this method.
"Remember, commercial cleaning companies cannot clean your filters and hood."
"With a degreaser or a rag, get as deep into your duct as possible to remove any grease. While you might be only able to reach a few inches, that will give you a better cleaning job than letting grease build up.